Edition anglaise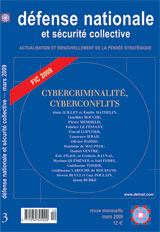 Our vital infrastructures must be protected from many threats. Following on from the White Paper on defence and national security, the National Defence Secretariat-General (SGDN) is playing a major role, both in approving 21 national security directives and in supporting the European Programme for Critical Infrastructure Protection. By controlling all facets of strategic information useful to economic players, economic intelligence contributes to defence of the nation's vital interests. Arrangements for supporting companies include oversight of financial operations, avoidance of strategic dependence, defence of legitimate economic security interests and the development of an ability to anticipate and act on tomorrow's opportunities and threats.
'Peer-to-peer' networks enable millions of Internet users to exchange files of any size and all types. The authorities have increased their efforts to ensure that the legal requirements for the transmission of certain contents are respected. However, another type of social networking, of the Facebook type, works in a different way, enabling the anonymity of users swapping data to be protected, and the confidentiality of exchanges to be preserved, so that they can be carried out with complete impunity.
In this article, based on studies between 2006 and 2008 of British Islamic militants and discussions with security services in both the West and East, the author analyses the spread of information via the Internet, and radical Islam among young British Muslims. Responding to the prejudices often propagated by the media, claiming that the Web accentuates activism, he maintains that radicalisation has more to do with individuals' personal experiences than with any outside influences.